SheIN
If you're an avid reader, then you know I love SheIN. SheIN is a clothing website that consists of women, curve, and men clothing. Not only does it have clothes, but shoes and accessories too. The most expensive item I have purchased from SheIN was around $25.00. The key to this website is watch what you buy! If you just go on there and buy whatever, you might be unsatisfied with your purchase. Overall, they run true to size!
Steps for Shopping on SheIN:
1. Check the material: any type of material that isn't good quality is a no go! If the material looks like a chiffon material, it's not going to ship well. Look for pieces with thick materials.
2. Look at Reviews: If there are any reviews, this is most likely a good item! I purchased a purse and looked at all the reviews. Every single review was right about the good quality of the purse!
3. Look at the picture: If the item only has one picture of the item, it may not look like the item when you get it in the mail. Make sure that the item in the picture looks like good quality and material. If the item looks like a thin material it may not be good quality! Always examine! If there's an item that's a lot like the one you're looking at for more money, buy that one. Always remember, you pay for quality! Except some shirts on SheIN may be $10 or less and will be perfect! Basics are the best to purchase.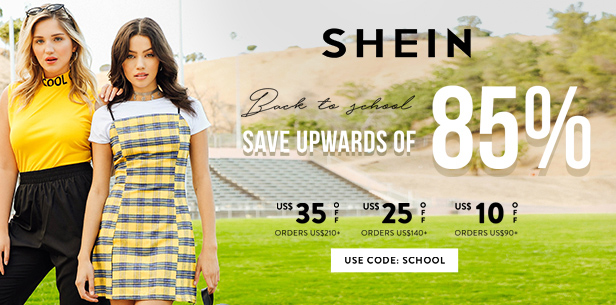 BACK TO SCHOOL
SAVE UPWARDS OF 85%

Get $10 off orders $90+
Get $25 off orders $140+
Get $35 off orders $210+

Code: SCHOOL

New season new fashion

Shop your best outfit with the strongest discount

Nordstrom Rack
Do you love high-end brands but can't find any for a good price online? Try Nordstrom Rack. I love Steve Madden shoes and I've purchased a pair of wedges for half the price they would be at Macy's on Nordstrom Rack. If you love designer sunglasses, they might have a pair for you up to 60% off. Shoes and accessories are my favorite things to purchase from Nordstrom Rack. Occasionally, I'll find good Free People deals. For example, I bought a Free People white robe jacket that detailed for around $200 but I purchased it for around $70. This was a little more than 4 years ago and it's still in amazing condition! As much as I love designer brands, NEVER settle for full price!!
Fashion Nova
This is my spot for jeans and dresses. Any special occasion I have, I love buying from Fashion Nova. Their quality ALWAYS amazes me more and more with each purchase. Sometimes I can find amazing sales. Over the summer I purchased about 6 things for $70 and each item was perfect! I have 3 pairs of high-waisted jeans from Fashion Nova. Each pair fits my waist perfectly. Having bigger hips with a small waist is actually a struggle when it comes to jeans. Fashion Nova jeans are the first that fit my waist, fit my thighs, and come up to my belly button! I hate when "high-waisted" jeans are not truly high-waisted! When deciding what size you are, never go up! They are either true to size or run big because they usually stretch.
When it comes to their special occasion dresses, they run true to size. I sometimes buy a medium in everything because things run small but when it comes to Fashion Nova I always buy a small. The fit will always amaze you!
Amazon
Amazon is my go-to for heels. Cape Robin has a ton of heels on Amazon! This brand is very trendy when it comes to heels. Also, Amazon fashion is awesome. I've bought a few dresses that are AMAZING quality for so cheap! I will link them down below. Always check reviews and make sure they're Amazon Prime! If you cannot find reviews on that certain item, try to find reviews on the sellers page! Once you find a seller that you've bought from before and was satisfied, now you know you can buy from them again when it comes to clothes! ALL of these dresses below have been beyond amazing!
My Amazon Fashion Finds: (Click on the picture to take you to the link).
Forever 21
Oddly enough, I hate shopping in-store at Forever 21. I can never find anything! BUT online is the jack pot, because their website has outside sellers too. I wanted a red fringe skirt set and I could not find one under $80. So I did a google search and found two pieces separately on Forever21.com (See Below). You'd be surprised at what you can find! Same with shoes, I found two pairs of heels for my Mexico Trip 2019. They were both good quality for less than $30.00 (See Below).
Overall, I love shopping in person. When it comes down to online shopping, I have my five favorites with a few other online stores. These are my more affordable but good quality go-tos!